Tour de France winner: Cadel Evans's often-sullen ride to historic victory
Cadel Evans's victory marks the first time an Australian has won the Tour. Until now, Evans, a runner-up in 2007 and 2008, was known as one of the Tour's prickliest riders.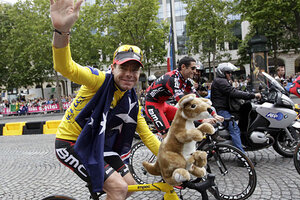 Denis Balibouse/Reuters
At times during his cycling career, Cadel Evans has been a sullen character.
In the 2008 Tour de France, the Australian threatened to cut a journalist's head off for nearly stepping on his dog Molly; the same race, he head-butted a TV camera.
Today, however, Mr. Evans was anything but prickly. Smiling for television cameras and chatting amicably with vanquished rivals, he rode into Paris as a Tour de France champion for the first time.
Sunday's stage, won in a sprint finish by Briton Mark Cavendish, was largely processional. Evans, the Tour runner-up in 2007 and 2008, secured his win with a stunning performance in Saturday's time trial, one that launched him into the yellow jersey and relegated the Luxemburger Andy Schleck to No. 2.
Standing on the podium next to Mr. Schleck and his brother, Fränk, the third-place finisher, Evans thanked the crowd for its support.
"I want to say thank you to everyone who had confidence in me," said Evans, who rides for the American squad BMC. "It's been a great race."
At 34, Evans is the oldest Tour winner since Henri Pélissier in 1923; he's also the first Australian to ever win the Tour.
Before Sunday's stage, he received a call from Australian Prime Minister Julia Gillard, who offered her congratulations, but stopped short of declaring his victory a national holiday.
"I'm not in a position to announce a public holiday for tomorrow, but I am in a position to share Cadel's view that ultimately we'll be more enthused about our daily tasks because we're celebrating his victory," she said.
---