Norwegians rally around victims as Breivik appears in court
Anders Behring Breivik appeared in court today, charged with terrorism for his attacks in Oslo and at an island youth camp. In the evening, Norwegians held mass rallies in memory of the 76 people who were killed.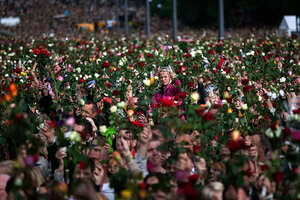 Emilio Morenatti/AP
Flashes of anger appeared in a subdued but increasingly defiant Oslo today as Norway got its first glimpse of the man accused of carrying out coordinated attacks that some fear may forever change this open nation.
The accused, Anders Behring Breivik, made his first appearance in a closed courtroom today following his arrest on Friday for the car bombing of government buildings as well as the shooting rampage at a Norwegian Labor Party youth summer camp that killed 76. Authorities today downgraded the death toll from their original estimate of 93 dead.
"The situation on the island on Friday night was quite chaotic," said Oystein Maeland, Norway's national police commissioner, describing the island of Utoya where Mr. Breivik allegedly mowed down 68 at the camp during an hour-long shooting spree. "It might have been that some victims were counted twice."
Mr. Maeland said the number of dead could still rise. Police said they were also investigating a remark the accused made in court referring to "two more cells in our organization," but said they had little to go on.
Crowds swarmed outside the courthouse, where several youths attacked and cursed an unmarked car pulling into the building. It was later revealed that Breivik had arrived in a different vehicle. In the evening, the mood changed as Norwegians held mass rallies around the country to commemorate the victims of Breivik's attacks. Crown Prince Haakon said in Oslo that "tonight the streets are filled with love."
---