Norwegian police under scrutiny after terror attacks
Oslo police today defended their hour-long response time to the shooting spree on Utoya island, part of the twin terrorist attacks that killed at least 76 people and shocked Norway.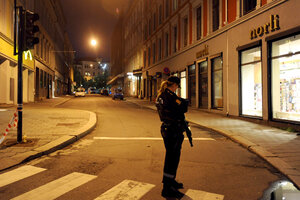 Britta Pedersen/DPA/Newscom
Norway's terrorist attacks have placed Oslo's police force and its tactics under the microscope, and today officials defended their reaction time to the shooting spree on the island of Utoya, saying the circumstances of Friday's assaults presented a genuine challenge to the authorities.
It took police more than an hour to reach the island after the first emergency call, alerting authorities that the accused shooter, Anders Behring Breivik, was firing on people at a youth camp organized by the ruling Labor party. By the time he was apprehended, at least 68 people were dead. Mr. Breivik is also charged with detonating a bomb outside the Norwegian prime minister's office hours before the shooting spree. At least eight people were killed in the explosion.
The police response to Utoya has drawn sharp criticism from some victims' family members and has many calling for Norwegian police to be better equipped to handle terrorist attacks, even though the country is considered one of the safest in the world. This is a nation where police are mostly unarmed, politicians rarely need security, and violent crime is uncommon.
But the shocking attacks, which Mr. Breivik has admitted to carrying out, could compel law enforcement here to begin reevaluating whether it's prepared enough for the worst-case scenarios.
Norway's Justice Minister Knut Storberget, however, has called the police's handling of the situation "excellent."
One of the key issues that limited police response time to Utoya was lack of fast transportation. Oslo police have only one helicopter, and the crew that operates it was on vacation at the time of the attack. Police underscored, however, the helicopter is used for observation or search missions and is unsuitable for the task that was at hand.
---