NATO moves to calm Kosovar-Serb border tensions
NATO is sending hundreds of reinforcements to bolster its peacekeeping forces after border violence has flared between Kosovo and Serbia.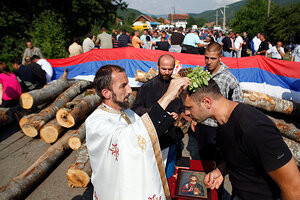 Marko Djurica/Reuters
NATO is sending several hundred German and Austrian troops to Kosovo to buttress peacekeeping forces there after border violence left a Kosovar policeman dead and inflamed tensions with Serbia.
Fighting erupted after Kosovar special police units in armored cars – operating at night late last month – swept into two border control stations to assert a ban on Serb products. Now, European Union officials are calling for calm and NATO has reinforced its peacekeepers.
While the immediate issue appears to be foot-dragging by Serbia on trade reciprocity, for Kosovars the underlying issue is the existential question of whether Belgrade, Serbia's capital, is angling to gain control of the already-partitioned Serb-majority northern chunk of Kosovo.
The position in Pristina, Kosovo's capital, is that their independence is not viable without the borders recognized by 77 states, 22 of which are European Union members. Serbia views the Kosovo region north of the Ibar river, a stronghold of Serb hard-line enclaves, as irreconcilable with the Albanian-majority government of Pristina; it does not recognize Kosovo.
---