Russia, Georgia remain in distrustful deadlock on anniversary of 2008 war
The US Senate this week called on Russia to stop its 'occupation' of two breakaway enclaves that were once part of Georgia. But both sides appear to be hardening their positions.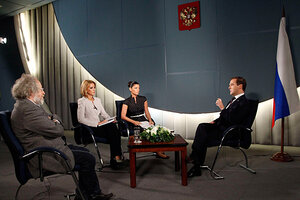 Vladimir Rodionov/RIA Novosti/Kremlin/Reuters
Tbilisi, Georgia; and Moscow
The war that erupted between Russia and its little post-Soviet neighbor Georgia three years ago this weekend was unexpected, extremely violent, and brief, much like the sudden summer storms that descend upon the Caucasus Mountains at this time of year.
But instead of refreshing the landscape, the August War has led to an extended period of frozen relations, deepening bitterness, and hardening narratives in both countries. Georgia, which has shifted toward the West since the 2003 Rose Revolution, sees itself as a harbinger of democracy in the post-Soviet sphere. Russia, however, sees it as a renegade state on its flank led by an illegitimate president.
The tensions have largely played out in a fight over two ethnic enclaves, Abkhazia and South Ossetia, which broke away from Georgia in the 1990s and have since been supported by Russia. But what was for years merely a regional spat became a conflict of global concern in the 2008 war, when Moscow unilaterally granted both statelets independence to crown its swift military victory over the US-trained Georgian army.
Now, Georgians maintain, Russia is striving to undermine their country's credibility as a model for democracy.
---