Tea-party hobbits? Hardly, say indignant Tolkien scholars.
Sen. John McCain's disparaging comparison between tea-party politicians and the small contented creatures from 'Lord of the Rings' has brought scholars, Gandalf-like, to the rescue.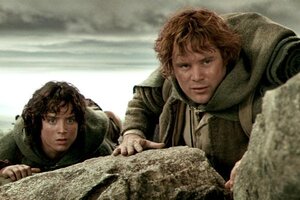 Newline Productions/File
J.R.R. Tolkien's fictional hobbits are receiving unusual attention after Sen. John McCain disparagingly compared the small and shy Shire folk in the "Lord of the Ring" trilogy to members of the US tea party.
During last week's fraught debt-ceiling debate, Senator McCain on the Senate floor chided the tea party leadership for making unrealistic demands in their politics and thinking that "Democrats would [then] have no choice but to pass a balanced budget amendment... and the tea-party Hobbits could return to Middle Earth having defeated Mordor." Mr. McCain was reading from a Wall St. Journal editorial.
But Tolkien scholars – those who presumably know hobbits best – aren't having any of it. Typical hobbits are far too content and far less sure of themselves than the typical tea-party politician, they say.
In fact, they're such contented creatures that they rarely hold press conferences. In the Shire it's a big thing just to walk out the front door. There are all those breakfasts to eat, gardens to be tended, and festivals to plan. They don't even have a K Street Washington lobby firm to represent them.
So like the wizard Gandalf, Tolkien scholars and enthusiasts have come to the rescue, taking up what they see as hobbit character assassination in the Senate.
"Is it fair to compare the Tea Party and hobbits? In a word, no," says Jason Fisher, a US-based Tolkien scholar. "The tea party might aspire to be hobbits, but at this point the two groups have just about zero in common."
---