European economic crisis: Why Italy is seen as too big to bail out
While Italy has a fairly low budget deficit, structural issues such as low productivity have resulted in an economic crisis. Its public debt, at 118 percent of GDP, is one of the highest in Europe.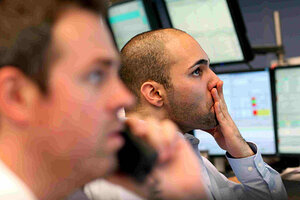 Ralph Orlowski/Reuters
Italian politicians are hardly known for being prompt, or for sticking to plans. Yet when Prime Minister Silvio Berlusconi announced a series of economic reforms aimed at reassuring markets, Europeans leaders were quick to welcome them as "crucial measures" to avoid a crisis that would threaten the stability of the whole European Union: Italy's default.
Following advice from the European Central Bank, Prime Minister Berlusconi vowed on Friday to approve labor reforms in September and to achieve a balanced budget by 2013. On Monday a joint statement by German Chancellor Angela Merkel and French President Nicolas Sarkozy welcomed the plan as "crucial." They also stressed the necessity to "implement the announced measures as soon as possible and in a complete manner."
---
Follow Stories Like This
Get the Monitor stories you care about delivered to your inbox.