Ukraine's trial of Yulia Tymoshenko backfires
Unkrainian President Viktor Yanukovych appears to have miscalculated the political consequences of bringing a corruption case against his rival, former Prime Minister Yulia Tymoshenko.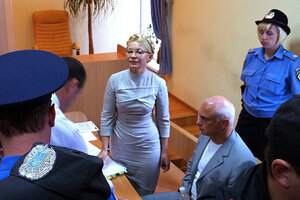 Olexander Prokopenko/AP
The fiery heroine of Ukraine's Orange Revolution, Yulia Tymoshenko, is fighting for her political life in a Kiev courtroom against charges of corruption and abuse of office while she was the country's prime minister in 2009.
Ms. Tymoshenko's trial began in late June, but on Friday the judge, infuriated by her repeated displays of defiance, had her arrested and imprisoned for the Ukrainian equivalent of "contempt of court." On Monday the court rejected her lawyers' appeal to have her released from jail.
But President Viktor Yanukovych, who narrowly defeated Tymoshenko in presidential polls last year and may have seen the corruption trial as means of finally burying a perennial opponent, appears to have miscalculated badly.
Tymoshenko's supporters have rallied to her defense, both the US and the European Union have expressed deep concern over what they suspect to be a "politically motivated" trial. Even Russia is growling angrily about Mr. Yanukovych's decision to make the centerpiece of the case a controversial 2009 gas agreement that Tymoshenko signed with Russian Prime Minister Vladimir Putin.
---