World markets worried about containing Europe debt crisis
Despite the European Central Bank's intervention today, last week's losses in the Asian and European exchanges continued, prompted by worries that Europe's debt crisis will spread.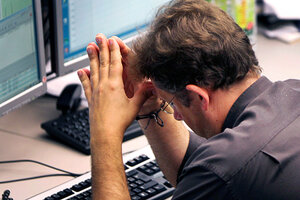 Michael Probst/AP
The European Central Bank (ECB) has failed to convince the world's financial markets that it can contain the sovereign debt crisis to the eurozone.
Asian and European exchanges on Monday extended the heavy losses suffered last week, despite the ECB's decision to buy up Italian and Spanish government debt. Financial experts in the eurozone sharply criticized the ECB's move.
"I was horrified when I read the news," says Hans-Peter Burghof, chair of the banking and finance department at the University of Hohenheim in southern Germany. "The ECB is repeating exactly the same mistakes it made when it bought Greek and Portuguese debt."
The intervention by the central bankers from Frankfurt did seem to bring some breathing space, though. Yields on Italian and Spanish bonds fell sharply on Monday morning, from more than 6 percent to about 5.2 percent. Yields relate to the interest rates governments have to pay creditors who hold their bonds and serve as an indication of the risk associated with lending to these governments.
---