Atwitter over a Tweeted call: Pray for London
Three days of riots in London and beyond have spawned a Twitter movement – a call to #prayforlondon – and an event.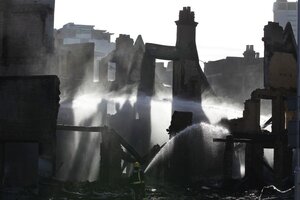 Sang Tan/STR/AP
Pray for London.
That's one of the top phrases trending on Twitter Tuesday. It has its own hashtag, meaning there are enough folks focused on the topic that it's earned a moniker. The other top Twitter trends today: "Dirty Dancing" "Eric Williams," and "Teen Wolf."
In a sphere often dominated by celebrities and lighter fare, the presence of a prayer campaign is a bit unusual.
At the heart of the #prayforlondon tweets is the Evangelical Alliance, the largest body serving Evangelical Christians in the UK. It called for a prayer vigil in Ruach Ministries in the Gaumont State of London at 7 p.m. Tuesday.
Christians were invited to join in prayer for those afflicted by the riots shaking the country.
"The arson, looting, violence and vandalism carried out in the past few days is both shocking and unacceptable," said Steve Clifford, the general director on the Evangelical Alliance website. "It's our communities that are being ransacked. Neighbors are losing their livelihoods and lives are being put at risk. Against such a background, the church is already taking immediate action."
---