Serbia, Kosovo inch toward tentative peace
Ethnic Serbian officials yesterday postponed a meeting on whether to accept a NATO-brokered accord with Kosovo authorities after ethnically charged violence rocked the breakaway state last month.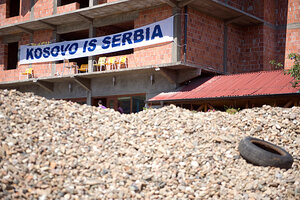 Ann Hermes/Staff
Serbian officials in northern Kosovo postponed a key decision on whether to adopt a NATO-brokered deal aimed at defusing ethnic tensions in the breakaway state yesterday.
Serbian, Kosovar, and international officials had expressed hope that the deal, which is aimed at quelling border tensions, would prevent further violence before formal dialogue on a host of issues resumes in Brussels next month.
High-level officials in both Serbia and Kosovo are eager for a quick resolution of the tension, since each side is concerned about the potentially negative impact of violence on their respective bids for EU membership. But at the local level in Kosovo – where a 10 percent ethnic Serb minority largely opposes the country's 2008 declaration of independence – there is significant resistance.
"There is a lot at stake," says Hanns-Christian Klasing, a spokesperson for the European Rule of Law Mission in Kosovo, which oversees policing, customs, and judicial functions in the country. "Membership in the European Union for both Serbia and Kosovo can only happen once [the Kosovo border issue] is solved politically…. We're not there yet."
But, Mr. Klasing adds, "this is what people want."
Why border dispute erupted into violence
Kosovo's 2008 declaration of independence still angers many Serbians, who consider the territory the cradle of their civilization and refuse to recognize Kosovo sovereignty.
---