How much are Twitter and BlackBerry to blame for British riots?
British officials have criticized social media for its role in organizing and fanning the riots throughout England. But experts suggest that much of the criticism is misplaced.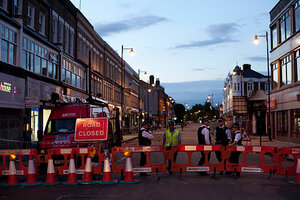 Karel Prinsloo/AP
Days of rioting across England have sharpened criticism of social media tools like BlackBerry Messenger, Facebook, and Twitter, which are helping criminals organize looting gangs, British officials say.
• David Lammy, a member of parliament from the city's hard-hit Tottenham district, on Tuesday called on Research in Motion, the Canadian owner of BlackBerry, to pull the plug.
• A day earlier, Scotland Yard warned that those "inciting violence" on Twitter would be brought to justice.
• And the deputy assistant commissioner of London's Metropolitan Police, Steve Kavanagh, said "really inflammatory, inaccurate" Twitter postings were a key cause of disorder.
On Thursday Prime Minister David Cameron added his voice.
---