London riots subdued, wheels of justice begin to turn [VIDEO]
The first batches of more than 1,200 people arrested across England began appearing in court today. Among them were a postman, a charity worker, and a millionaire's teen daughter.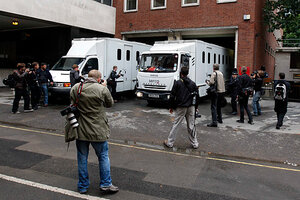 Cathal McNaughton/Reuters
First there was the violence and now there is the justice.
After nearly five nights of violence in towns and cities across England, riot suspects are appearing before the courts where magistrates and judges are under pressure from politicians to hand out severe punishments.
In London, the City of Westminster Magistrates Court remained open all night to deal with a backlog of riot suspects held in custody since trouble erupted Aug. 6. Police say some were arrested at the scene of crimes, while others were arrested after having been identified by surveillance cameras or witnesses.
In a speech to the recalled British parliament, Prime Minster David Cameron said there had been more than 1,200 arrests across England, including 922 in London alone.
"It is criminality pure and simple. And there is absolutely no excuse for it," he told members of Parliament. "We have seen houses, offices, and shops raided and torched, police officers assaulted and fire crews attacked as they try to put out fires, people robbing others while they lie injured and bleeding in the street, and even three innocent people being deliberately run over and killed in Birmingham.
"We will not put up with this in our country. We will not allow a culture of fear to exist on our streets," he said. "And we will do whatever it takes to restore law and order and to rebuild our communities."
Suspects range from a postman to a millionaire's teen daughter
---