After London riots, some bemoan damage to city's image ahead of 2012 Olympics
Olympians and businessmen express concern that a week of riots have hurt the city's image as a safe, world-class venue for the 2012 Summer Olympics.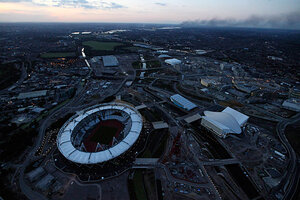 Suzanne Plunkett/Reuters
The timing probably couldn't have been much worse.
Almost a year to the day until the 2012 Olympics Games begin in London, the world was treated to images of rioters smashing storefronts and setting buildings ablaze in the capital and beyond.
Footage of looting, arson, and pitched battles with police dressed in riot gear played out on national and international televisions, raising questions about London's reputation as safe and multicultural and one of the world's premier cities.
While Prime Minister David Cameron and senior ministers concentrated on quelling the last of the unrest in English cities, others such as business people and athletes are assessing the damage to the country's reputation abroad and the impact on next summer's Olympics.
'The country at its very worst'
Mr. Cameron, London mayor Boris Johnson, and the head of the Games' organizing committee Sebastian Coe have all been talking up the event and saying the riots will have little impact.
However their claims were undermined by the discovery that one of the rioters was 18-year-old Olympic ambassador Chelsea Ives, who was allegedly caught on camera throwing bricks at a Vodafone shop window at the height of the rioting in Enfield, north London. Her mother turned her into police after seeing footage of the riots, landing Ives in custody on two counts of burglary and throwing masonry at a police car. Her photo has been splashed across the British media.
---