From tumult of London riots, a father's voice emerges
Tariq Jahan, whose son Haroon was killed in the London riots, has gained Britain's ear with his dignified but urgent pleas for calm.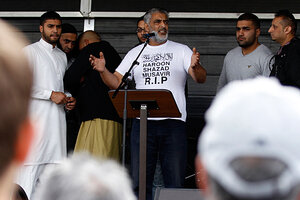 Darren Staples/Reuters
A week after harrowing riots in London that spread to other British cities, the voice of a first-generation Muslim whose son was killed may prove to be the most eloquent cry for sanity.
Hours after failing to revive his son Haroon and two others killed in Birmingham by a car that drove at high speed into a sidewalk crowd, Tariq Jahan, born in Pakistan, was able to stand before a crowd bent on revenge, and say, "I lost my son. Blacks, Asians, whites: We all live in the same community. Why do we have to kill one another? Why are we doing this? Step forward if you want to lose your sons. Otherwise, calm down and go home, please."
Mr. Jahan's few hundred words shot out of the multiethnic Birmingham neighborhood, lighting up the Twitter and YouTube worlds and becoming a kind of anthem of sober reflection for all Brits, forged out of pain and loss.
Jahan is getting credit for reaching average people in a way that political leaders have been unable to. His story and his deeds are getting daily play here; a Financial Times editorial, "Disunited Kingdom," found Jahan's example the "most inspiring" from a "torrid week" and a "reminder of the obligations of community."
---