Environmentalists demand more answers from Shell after Scotland oil spill
Although Shell has apologized for the North Sea spill, which has yet to be contained, the oil company's belated release of information is still drawing criticism from environmentalists.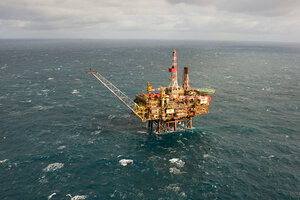 Royal Dutch Shell/Reuters
Environmental groups are demanding "a full and open" investigation into the cause of Scotland's worst oil spill in a decade as cleanup efforts to stave off an environmental disaster continue.
More than 200 tons of oil have spewed from a Shell-operated pipeline connecting an oil well to the Gannett Alpha platform in the North Sea, 112 miles east of Aberdeen in northeastern Scotland.
The transparency calls came after the Anglo-Dutch company was accused of shrouding the leak in secrecy. It took two days from the time the spill was detected for information about it to be made public. Shell responded with a detailed apology on Wednesday.
Scotland's Royal Society for the Protection of Birds Director Stuart Housden, whose group was angered by its exclusion from the initial response to the spill, endorsed Shell's apology but said that a forthcoming inquiry needed to be "open and transparent."
A full investigation into the leak by government health and safety specialists will produce a report to send to the Crown Office, and prosecutors will decide whether to proceed with court action. Any guilty parties must be made to pay, Mr. Housden says.
"We need to know what happened," he says, "Why and if those responsible will be held accountable."
---