Should the Lockerbie bomber go back to jail?
US and British politicians want Libyan rebels to extradite Abdel Baset al-Megrahi, the Lockerbie bomber released by Scotland in 2009 after doctors gave him three months to live.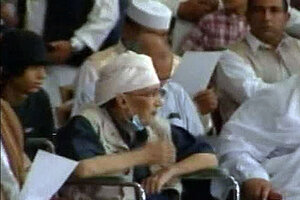 Libya State TV/AP/File
Libyan leader Muammar Qaddafi's seemingly imminent fall has given rise to new calls for the capture – and re-imprisonment – of freed Lockerbie bomber Abdel Baset al-Megrahi.
Mr. al-Megrahi, who has been diagnosed with prostate cancer, was freed by the Scottish government on "compassionate grounds" after doctors claimed he probably had only three months to live.
But that was two years ago – a fact that has sparked renewed condemnation among US and British politicians.
Prime Minister David Cameron says it was "wrong" for Megrahi to be released early from his jail term in a Scottish prison, his Downing Street spokeswoman said. Those comments are likely to galvanize calls in the US for him to be extradited from his Libyan sanctuary.
Republican presidential hopeful Mitt Romney said the rebels should turn over Megrahi once they complete the takeover of Libya. Member of the British Parliament Robert Halfon, of Cameron's governing Conservative Party, said he should be "brought back" to the UK, "spend the rest of his life in a Libyan jail," or "be extradited to the US."
At the time of his release in August 2009, many critics of the plan suggested it was being done to secure multimillion dollar oil deals with Libya. But the British and Scottish governments at the time have insisted the decision had been taken by the Scottish Justice Minister Kenny MacAskill.
---