Russian spacecraft falls from the sky. Is the International Space Station in trouble?
The second embarrassing loss of a Russian space vehicle in a week spells trouble for Russia's space program and its ability to maintain the International Space Station.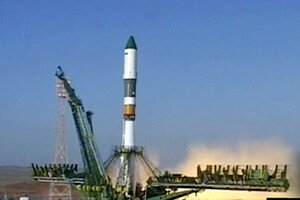 Rossiya 24 TV Channel/AP
An unmanned Russian space freighter, which was launched on a resupply mission to the International Space Station, careened out of control and blew up in a "thunderous fireball" over Siberia Wednesday.
The blast triggering a state of emergency over a wide region and calls into doubt Russia's ability to handle its space obligations in the post-space shuttle era.
"The explosion was so strong that for 100 kilometers glass almost flew out of the windows," Alexander Borisov, an official in the remote and mountainous Altai Republic, on the Mongolian border, where most of the debris from the destroyed Progress spaceship rained down, was quoted by RIA-Novosti as saying.
Russian media reported Thursday that none of the wreckage fell on populated areas, and 40 lumberjacks who'd been working in the affected zone were all safe and accounted for.
But the main casualty may be Russia's ambitious space program, which is the only link to the ISS since last month's final space shuttle mission left NASA without a spacefaring capability.
---