String of accidents could leave International Space Station without crew
When the International Space Station's crew departs this fall, the station could be left unmanned. Flights there have been halted until the cause of last week's space freighter crash is determined.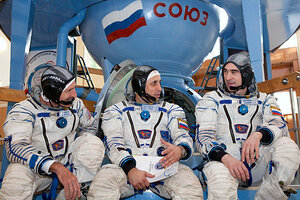 Sergei Remezov/Reuters
A string of accidents has raised doubts about Russia's capability to resupply the International Space Station and prompted worries that the orbiting research platform – continuously inhabited for a decade – may have to be abandoned, at least temporarily.
The Russian space agency Roskosmos officially announced today that it will delay planned flights to resupply the ISS and rotate its crew until the causes of last week's crash of a Progress space freighter can be explained and corrected. Russia's Progress robot cargo ships and Soyuz manned space vehicles have been the only means of reaching and resupplying the station since the US space agency NASA retired its last space shuttle, the Atlantis, in July.
Three of the six astronauts currently aboard the ISS were scheduled to be replaced in late September by a Soyuz mission, but that has now been pushed back by at least a month.
"We expect that the next manned launch will take place in late October or early November, not earlier. That is our plan," said Roskosmos' manned spaceflight programme director, Alexei Krasnov, on Monday, according to the official RIA-Novosti agency. "If for some reason we fail to send up the next crew by the end of November, we will have to study all the available options, including one of leaving the station unmanned," he added.
---