At Libya summit in Paris, a bid for new relationship with North Africa
A Libya summit convening this evening will target the National Transitional Council's governing and financial needs. French and British hosts are keen to avoid any echoes of past European colonialism.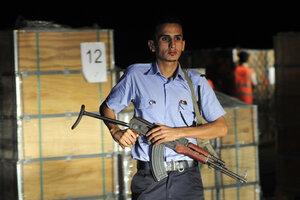 Esam Al-Fetori/Reuters
Today's conference on Libya, hosted in Paris by French President Nicolas Sarkozy and British Prime Minister David Cameron, introduces Libyan rebel leaders to an international gathering in an effort to establish their legitimacy and to release frozen Libyan assets abroad.
It may more largely signal a "new relationship" between Europe and North Africa, with French diplomats stressing an emphasis on "listening" and trying to eclipse the post-colonial legacy of European states that long teamed up with Arab autocrats toppled during the Arab Spring.
In practical terms, the meeting in Paris this evening is all about "transition" – especially at a sensitive moment when the rebel effort could still go badly or fail, French diplomats say. The main issue: How can a country ruled for 42 years by an autocrat transform itself into a democracy in a stable fashion?
Yet after six months of what often seemed an inconclusive war, it is also a moment of quiet celebration in Paris and London after a European summer of debt crisis, riots, and uncertainty.
The gathering follows a March 19 Paris conference that agreed to launch airstrikes to save rebels in the eastern Libyan city of Benghazi, and it takes place with fighting still underway and Muammar Qaddafi still at large.
---