German court checks Merkel's power in eurozone crisis
The Constitutional Court rejected arguments against Germany's participation in eurozone bailouts, but said Merkel's government needs a parliamentary OK before offering more aid.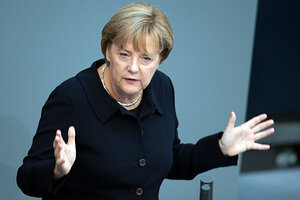 Markus Schreiber/AP
In a key ruling today, Germany's Federal Constitutional Court rejected legal challenges to the country's participation in bailouts for ailing eurozone countries.
But the judges also ruled that future moves by Germany to offer economic aid or create new fiscal instruments for the eurozone require parliamentary backing.
The decision is unlikely to limit the amount of cash economic powerhouse Germany adds to future eurozone aid packages, but it does amount to a significant check on the government's control in mitigating the eurozone crisis.
"Chancellor Merkel can no longer just travel to Paris, agree [to] some far-reaching deal on bailout terms with President Sarkozy, and then present the facts to the German people," says Hans Hugo Klein, a former constitutional lawyer. "The days of self-glory are over."
The complaints, brought by a conservative member of parliament and a group of five economists, argued that the creation of the bailout fund violates the German Constitution, which protects citizens' right to own property and have democratic representation, as well as parliament's right to control the budget.
---