Russian jet crash kills hockey team in stinging national tragedy
Russian jet crash Wednesday killed most of the Lokomotiv Yaroslavl hockey team and follows a string of tragic airline accidents in Russia.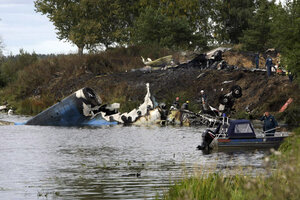 Misha Japaridze/AP
Russians are reeling from the news of yet another deadly plane crash in a summer that's been littered with tragic airline accidents.
Wednesday's accident involved a small Yak-42 jet that blew up during take-off in the Volga city of Yaroslavl, killing at least 45 people, including most members of a Russian hockey team.
Russian news reports said the plane was carrying the whole roster of Lokomotiv Yaroslavl, one of Russia's leading ice hockey teams that includes a Canadian coach, a Swedish goalie, players from Germany, Slovakia, the Czech Republic, and several former National Hockey League stars among its members.
They were on their way to the Belarussian capital of Minsk to play a season opening game for the newly created Kontinental Hockey League (KHL) when the aircraft reportedly plunged off the runway, hit a fence, and burst into flames.
President Dmitry Medvedev, who was due to take part in a political forum that opens in Yaroslavl Thursday, told journalists "there has been a terrible tragedy," and said he will visit the accident site immediately upon his arrival to honor the memory of the dead.
---