In Germany, considering a eurozone minus Greece
The coalition government in Germany, the biggest contributor to the eurozone rescue fund, appears split over over a possible sovereign default for Greece.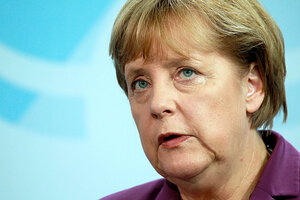 Michael Sohn/AP
Athens's inability to get a grip on the debt problem is rattling markets and giving rise to talk of a notion that until recently has been considered taboo: a eurozone without Greece.
Greece's introduction last weekend of a new real estate tax and reduction in elected officials' pay are being called too little, too late to address its deep debt. And in Germany, which holds the purse strings when it comes to euro bailouts, rising unease about coming to the aid of ailing European economies is changing longstanding assumptions about Greece's future.
"If we want to stabilize the euro, we can't afford having taboos any longer," said German economy minister Philipp Rösler in a Sunday TV interview. "We should think about the possibility of an orderly sovereign default in Greece."
Even though financial experts have insisted for some time that Greece is de facto insolvent, cabinet ministers and senior politicians in Berlin have refused until now to speculate about this possibility. The fear was that even a debate about a default might scare already nervous investors into taking even more money out of the markets, creating further problems for other eurozone member states and particularly for international banks.
---