Even amid eurozone crisis, Italians chafe at deeper cuts
Italy is under pressure from the European Central Bank to adopt austerity measures, but Italians suffering financially resent the government's austerity plan and tax increases.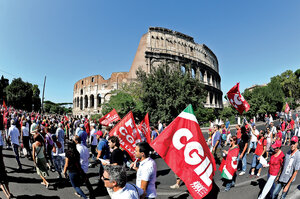 Andreas Solaro/AFP/Newscom
Fabrizio Bianchini, who works as a delivery man for a soap company, faced a tough task on Sept. 6, the day Italy's powerful CGIL union declared a nationwide strike against proposed austerity measures. Public transportation was suspended in major cities and the streets were clogged, complicating his efforts to get his deliveries to their proper destination.
But despite the disruption to his workday, Mr. Bianchini sympathizes with the protesters. His only regret is that he could not take part in the strike.
"I feel insulted and I am really worried about the future," says Bianchini after a long day. "Whoever thought up this economic reform did not realize that average families are already struggling. They probably thought 1 percent extra taxes on food and other goods won't hurt anyone, but that's not true.
"Personally, I am already spending all I earn to support my family," he continues. "How can I find some extra €30 or €50 each month?" (That's the equivalent of $40 to $70.)
The demonstrations that have rocked Italy come amid the conservative government's move to pass a controversial emergency austerity plan to avoid default and reduce the deficit by €54 billion ($70 billion) over three years.
The plan – mostly raising taxes and, to a lesser degree, cutting spending – has been criticized both by the left-wing opposition, which sees it as a way to further hurt the working and middle classes, and by free-market economists, who fear higher taxes will stifle economic growth.
---
Follow Stories Like This
Get the Monitor stories you care about delivered to your inbox.