Sectarian worries as Scotland's 'Old Firm' renews its soccer rivalry
With Glasgow soccer teams Celtic and Rangers set to meet this weekend, Scotland is drafting new measures to stamp out Protestant-Catholic sectarianism rooted in the teams' culture.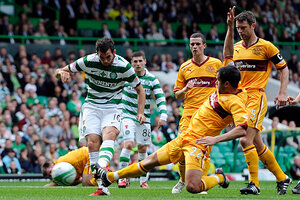 Russell Cheyne/Reuters
Growing up, Glasgow Rangers fan Graeme Strachan heard the songs and sang them like many of those in the stands around him.
For this died-in-the-wool soccer fanatic, it was an eclectic match-day experience – the choir of fans at Rangers' Ibrox Stadium renowned for its varied songbook including favorites such as "We Are Rangers, Super Rangers," "Follow, Follow," and even an adapted rendition of Tina Turner classic "Simply the Best."
But lately it is the numbers considered in some quarters as offensive for their "sectarian" content – among them "The Billy Boys," "Derry's Walls," and "Build My Gallows High" – that are garnering the wrong kind of attention for the team that Mr. Strachan has supported all of his life.
"There are many traditional songs about Rangers history that are not sectarian but unfortunately have had 'add-ons' attached over the years," he says, "in fact, even [the tradition of] running out every week at Ibrox to 'Simply the Best' was stopped for a while" due to profane additions about the Pope and the Irish Republican Army.
Indeed, the mention of religious sectarianism in Scotland generally yields responses that revolve around soccer and the country's top two teams: Rangers and their city rivals, Glasgow Celtic. For the Catholic-associated Celtic and Protestant-identified Rangers occupy two sides of a divide marred by bigotry and an alleged litany of sectarian-related crime.
---