Italian scientists' failure to predict 2009 quake: a criminal offense? (video)
More than 300 people died when an earthquake struck the Italian town of L'Aquila in 2009, days after several scientists said there was 'no danger.' Now the scientists are facing a trial for manslaughter.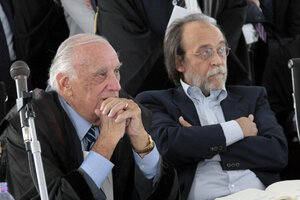 Raniero Pizzi/AP
Almost a year and a half after a 6.3 magnitude earthquake shook central Italy – leaving more than 300 dead and the medieval town of L'Aquila in rubble – seven scientists are being charged with manslaughter in what some have described as a trial against science itself.
The public prosecutor claims that the seven experts falsely reassured the public that there was "no danger" of a major quake in the near future in a public statement issued just six days ahead of the April 9, 2009, disaster, and are thus accountable for many deaths. Victims of the quake are also bringing civil claims against the scientists totaling 50 million euros ($68.2 million), the ANSA news agency reported.
Yet the scientific community worldwide has been outraged by the allegations, which are perceived as an attempt to scapegoat the tragedy on a group of scientists who supposedly should have foreseen it.
Thomas H. Jordan, the director of the Southern California Earthquake Center who also chaired an international panel appointed by the Italian government after the 2009 quake, wrote an article in The New Scientist in defense of his colleagues on trial.
---