Russia skeptics proven right as Putin set to take top spot again
Saturday's announcement that Russian Prime Minister Vladimir Putin will be the ruling party's nominee for president in elections slated for March seemed to leave little doubt he was always in charge.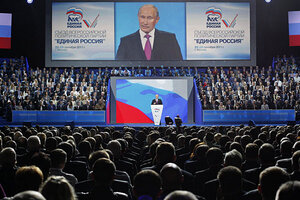 Ivan Sekretarev/AP
The skeptics have been proven right.
After four years of wielding power -- often indirectly -- as prime minister, former President Vladimir Putin stepped back onto Russia's political center stage Saturday to announce that he will be the Kremlin's next master, just as his fiercest critics always argued he would.
For at least a moment, the real workings of the political system built by Mr. Putin over the past decade became transparent. There was little doubt that he has actually been in charge of the country all along, and not the man elected by the voters and designated by Russia's Constitution to do that job: President Dmitry Medvedev.
Despite a detailed facade of multiparty elections and parliamentary democracy, analysts say that Russia has actually been run for the past decade by a small group of people who came into the Kremlin with Putin in 2000, and the lines of power were not altered in the slightest when Putin stepped aside in favor of his protege, Mr. Medvedev, 4 years ago.
At the time, Putin said he was leaving power in deference to a Constitutional two-term limit, and he backed Medvedev as the most qualified person to succeed him. In turn, Medvedev appointed Putin to serve as his prime minister.
---