Amanda Knox freed after jury overturns controversial murder verdict
Amanda Knox, an American exchange student sentenced by an Italian court to 26 years for the murder of Meredith Kercher, was acquitted Monday. Serious doubts had emerged over the evidence used to convict her.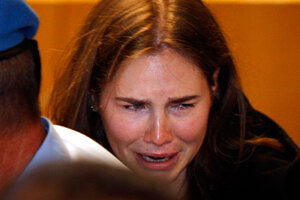 Pier Paolo Cito/AP
Amanda Knox was dramatically acquitted on Monday of the murder of Meredith Kercher, her British roommate, bringing to an end a four-year case that galvanized world attention and raised questions about standards accepted by the Italian justice system in a capital case.
Since being accused of the murder, Ms. Knox had become an object of fascination in Britain and the United States, her home country. Noted for her good looks and criticized for her enigmatic behavior shortly after the murder, she was variously portrayed as a lying, manipulative temptress or an innocent abroad who became unwittingly caught up in a gross miscarriage of justice.
The latter depiction prevailed when the six jurors, aided by two judges, made their decision.
Whether Italians more broadly will accept the acquittal is unclear. When the news reached a crowd of about 1,000 locals waiting in the piazza outside the courthouse, there was uproar. Many of them shouted "shame," with the chant reaching a crescendo when lawyers who had defended Knox and her former boyfriend, Raffaele Sollecito, who was also acquitted, emerged to give live interviews on TV networks.
Some members of the crowd yelled "They condemned the black man" – a reference to Rudy Guede, who is serving 16 years in prison for the murder and has exhausted his appeals process.
Dramatic courtroom scene
---