New solution to European debt crisis: refinancing Europe's banks?
As the global economy founders, refinancing Europe's banks to deal with the debt crisis might be preferable to bailing out countries, experts say – and politicians are starting to agree.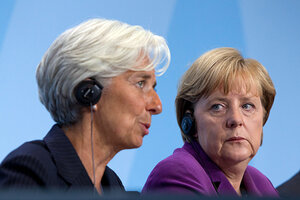 Maja Hitij/dapd/AP
The past few days have seen Europe's leaders hectically playing firefighter to save the union's financial system and prevent the crisis from reaching the real economy.
The global economy is going through the most severe crisis since World War II, Jean-Claude Trichet, the outgoing president of the European Central Bank, said in an interview on German television last night, calling on political leaders to take coordinated action. But while analysts may share Mr. Trichet's gloomy assessment of the ongoing financial crisis in the eurozone and its vicinity, they are unconvinced by his call for unity.
European leaders have to confront not one, but several wildfires. The sovereign debt crisis engulfing Greece and several other countries – mainly in southern Europe – is now aggravated by concerns about the health of Europe's banks, which only a few months ago were deemed safe and sound. There is disagreement within the eurozone about the design of mechanisms devised to prevent future debt crises. And there is an increasingly skeptical European population, wondering if saving the project of a common currency is worth paying the price.
Concerns about Europe's banks
---