The mouse that roared: How tiny Slovakia could prolong Europe's massive debt crisis
Slovakia's vote against expanding the European bailout fund presents an unwelcome obstacle to solving Europe's debt crisis. It also caused the fall of the tiny country's government.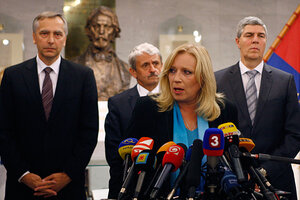 Petr David Josek/AP
The Slovakian parliament last night voted against the expansion of the European bailout fund, the EFSF, adding another level of uncertainty to the already volatile financial situation in the European Union.
Slovakia was the last of the 17 eurozone countries to approve the measure, which cannot be implemented without ratification by all members. The vote does not just mean a most unwelcome obstacle for the eurozone's attempts to get a grip on the sovereign debt crisis engulfing several of its southern members. It also caused the collapse of the Slovakian government, which had linked its survival to a positive outcome of the poll.
The events in Bratislava coincided with an announcement by the outgoing president of the European Central Bank, Jean-Claude Trichet, who warned in his final appearance at the European Parliament in Brussels that the debt crisis in Europe had now reached systemic dimensions.
"The high interconnectedness in the EU financial system has led to a rapidly rising risk of significant contagion. It threatens financial stability in the EU as a whole and adversely impacts the real economy in Europe and beyond," Mr. Trichet said.
Slovaks: How can we afford to help bail out Greeks?
The result in the Slovakian vote was due to the refusal of one of the four government coalition parties, the Freedom and Solidarity (SaS) party, to support Prime Minister Iveta Radicova.
---