Europe's 'holy fools' set the tone for US Occupy Wall Street protesters
From Greece to Italy to Spain, young Europeans, much like the Occupy Wall Street protesters who have followed them, have been pushing for answers to high unemployment and poor representation.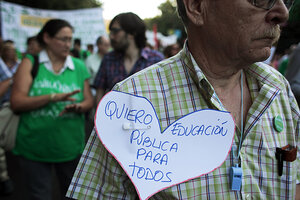 Susana Vera/Reuters
The economic protests capturing attention outside Wall Street and elsewhere in the United States germinated partly in Europe.
Before the "99 percent" concept caught fire in New York, a similarly ragtag set of characters, mostly young, were camping out in Spain, Greece, and Italy. They walked across Europe to Brussels with painted faces, formed hundreds of working groups, and generally acted out the ancient role of "holy fools" – outspoken nonconformists – in the modern age. Something is wrong, they agree, but they don't know what it is. They have no political power. But in spite of it all, they aren't going to accept an unendingly bleak present or future.
In France, an earnest-eyed newly unemployed young woman, Gaelle Simon, who moved home with her family after working in a Swiss factory, says typically: "If nothing changes, there is no way forward. I strongly feel this. Things have to change."
---
Follow Stories Like This
Get the Monitor stories you care about delivered to your inbox.