European men losing jobs faster than women
A new study by the European Union found that unemployment is having a disproportionate effect on men because male-dominated industries have been hit hardest by the recession.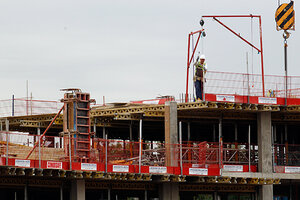 Suzanne Plunkett/Reuters
Since the "great recession" hit, the labor market in Europe has been shedding jobs hand over fist, and it appears men may have it worse than women, reports a new European Union study.
A report from the EU's employment research unit Eurofound says women fared better than men in the labor market during the recession. Of the five million jobs shed between 2008 and 2010, four million were held by males, one million by females.
The reason behind higher unemployment among men may have little to do with gender issues, and almost everything to do with the gender composition of the industries hardest hit by the recession. Construction and manufacturing, for example, have taken some of the biggest blows and these tend to be male dominated professions.
"It has nothing to do with women; there's nothing feminist or unfeminist about it. Sex is of declining significance in the labor market. I don't think women are more vulnerable than men, or vice versa. It's entirely a question of the industrial composition of the [individual national] economy," says Catherine Hakim, a sociologist at the Center for Policy Studies and former research fellow at the London School of Economics.
Gender differences among blue and white collar jobs
Professional-grade positions in the female-dominated health and education sectors continued to expand while mid-paying and traditionally male industries, such as construction and manufacturing, contracted.
---