NATO teargasses Kosovo Serbs in battle over barricades
After local Serbs refused a NATO ultimatum to take down road barricades, NATO forces removed the barricades by force, teargassing local Serbs who attempted to thwart them.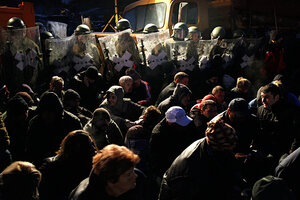 Darko Vojinovic/AP
In a surprising use of force, NATO peacekeepers in Kosovo early today used tear gas and pepper spray against local Serbs while dismantling a series of barricades erected in July by local hardliners.
The raid came after local Serbs twice refused a NATO ultimatum to take down the 16 mud-and-log barriers that required EU police to escort Kosovo customs officers to the border via helicopters. The barriers became a symbol of defiance against Kosovo independence and the borders decided by a UN resolution. Self-styled Kosovo Serb officials announced yesterday they would not remove the barricades and sought instead to define terms to the peacekeeping and EU police forces.
Shortly after the NATO raid, a press release by the European police force in Kosovo together with KFOR, the designation of the 5,500 troop NATO mission there, described it in flat language as "a joint operation to reestablish freedom of movement in northern Kosovo. Barricades were removed and vehicle check points and roadblocks set up. ... The overall aim is to improve the rule of law situation in this part of Kosovo."
Angry local Serbs mobbed the operation, leading to tear gas injuries for 22 Serbs and creating tension.
KFOR official Uve Novicki told Radio Free Europe in Pristina, "I can say our operation went successfully so far. We have a full control in the valley across the Ibar River and roads that were used for smuggling."
Authorities in Pristina applauded the KFOR action. In Belgrade the Tadic government called for restraint and calm.
---