Is the man from Dragon's Den Ireland's next president?
He was leading the polling, but a damaging allegation this week could have hurt Seán Gallagher's chances of becoming Ireland's next president.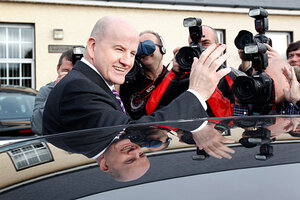 Cathal McNaughton/Reuters
Belfast, Northern Ireland
Ireland went to the polls today to choose a new president from a colorful cast of candidates that includes a reality TV star, a former Irish Republican Army leader, and a gay rights campaigner.
Five men and two women are standing for what is, officially at least, the highest office in the land. But Ireland's presidency has no real power – something the public appears to understand only too well.Turnout was low according to reports from polling stations, averaging around 20 percent in some areas at 5 p.m. tonight.
Executive power in Ireland, a parliamentary republic, resides with the Cabinet in the lower house, the Dáil, but the presidency has symbolic power and this is being exploited for all it's worth by the candidates. Each claims to want to shine a light amid the economic gloom that pervades the nation.
The man to beat is an unlikely figure for political office: a farmer turned property developer and TV star: Seán Gallagher, a businessman and star of "Dragons' Den," a reality TV show about entrepreneurs.
"Seán Gallagher has surprised the Dublin media bubble but he has the common touch, something that can be seen in the numbers of his Facebook fans," says Ciarán McMahon, a psychologist at the Dublin Business School who has been studying the impact of social networks during the election campaign.
---