Greek debt referendum: Bad for economy, but good for democracy
The shocking news of a Greek debt referendum this week has prompted European leaders to hold an emergency meeting today ahead of the G20 summit in Cannes, France.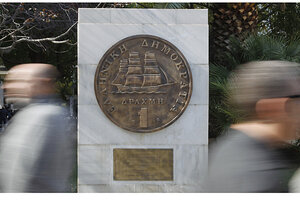 Thanassis Stavrakis/AP
European Union leaders are reportedly "irritated" and "annoyed" with Greek Prime Minister George Papandreou, who shocked his European colleagues and global markets by announcing a referendum on the latest EU bailout plan for his country.
But those not directly involved in bailout negotiations seem to agree on two things: The Greek call for a referendum is good for democracy although it is, at least in the short term, potentially bad for the economy.
"I welcome the referendum," says Hans-Peter Burghof, chair of the banking and finance department at the University of Hohenheim. "It's a reminder of the democratic basics that organize European societies. But since we have no date for the referendum and no clear idea what exactly it will ask, it throws overboard the whole schedule for the Greek bailout. We simply have no idea what's going to happen next."
Indeed, politicians, economists, and citizens in the eurozone are still trying to figure out what the implications of this decision will be.
Mr. Papandreou's plan prematurely ended the short period of calm in the eurozone. The more relaxed atmosphere was brought about by last week's emergency summit in Brussels, where EU leaders agreed a new bailout package for Greece, including a 50 percent debt write-off, a recapitalization program for European banks, and a massive increase in the capacity of the euro rescue fund.
---