Greece debt crisis: Who is Lucas Papademos?
Lucas Papademos will lead an interim caretaker government that will focus on tackling Greece's debt crisis.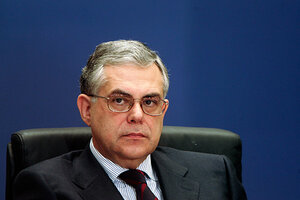 Yiorgos Karahalis/Reuters/File
In an effort to right Greece's course amid the ongoing European debt crisis, former European Central Bank vice president Lucas Papademos has been named interim prime minister of Greece, replacing the outgoing George Papandreou.
Mr. Papademos will lead an interim caretaker government that will oversee the country and continue financial aid talks with Europe.
Papademos has significant experience in the financial sector.
He joined the Bank of Greece in 1985 as chief economist, and rose through the ranks until being appointed governor in 1994 – a position he held until 2002. Papademos moved on to the European Central Bank in 2002, where he served as the vice president until 2010, when he left to become a visiting professor at the Harvard Kennedy School of Government.
Though not a politician, Papademos is well regarded across Greece and Europe, writes The Wall Street Journal.
Mr. Papademos, who has taught at Harvard University since leaving the ECB in 2010 and is an economic adviser to Mr. Papandreou "is widely known and respected in Europe," a senior Pasok official said. "If he accepts to lead such a government he will be our top choice," the official said.

The former ECB official, who hasn't yet commented publicly on whether he is interested in the post, brings with him a long financial policy pedigree that could reassure other euro-zone leaders and financial markets, where confidence in Greek debt-crisis management this week reached a new low.
While Papademos has avoided getting overly involved in politics – he turned down an opportunity to join Mr. Papandreou's cabinet as finance minister last summer – he has served as an economic adviser to Papandreou.
---