Split the EU? Europe debt crisis pushes idea into the open.
Splitting the EU – creating a small core of eurozone countries and a looser outer circle – has been taboo. But as Europe debt crisis worsens, France and Germany are discussing the idea more intensively.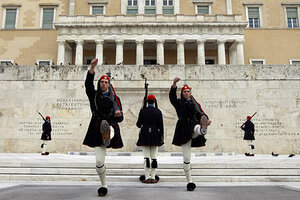 John Kolesidis/Reuters
A long-running taboo on the idea of splitting the European Union into two zones or tiers is being breached by a debt crisis that has brought Ireland, Portugal, Greece, and now Italy to their financial and political knees.
An EU comprised of "core" dynamic nations and less-competitive "peripheral" nations has been viewed for years as abridging the idealistic project of a postwar Europe of greater integration and unity. Critics say the idea is harmful at a time when EU confidence is low, and will reopen national divides and have bitter unintended consequences. But advocates say the 27-nation EU doesn't coordinate well – and that the EU is already, in fact, operating at two speeds.
French president Nicolas Sarkozy was the first EU leader to openly break the stricture on discussing a new division, talking this week about a Europe of "core" nations and less dynamic states in a speech at Strasbourg University in France. "In the end, clearly, there will be two European gears," he said: "one gear toward more integration in the eurozone and a gear that is more confederal in the European Union."
The current European debt crisis dramatizes the issues. The debt crisis that emerged in Greece in 2010 reached another stage Thursday as Greece chose – after four days of political wrangling – a new caretaker prime minister, Lucas Papademos.
A former deputy chief of the European Central Bank and Harvard professor, Mr. Papademos appears to have won the day in Athens simply because he is not in the grip of local politics. He has only 100 days to act before new elections, and faces an immediate test to approve a 130-billion-euro EU bailout package and pass muster for an 8-billion-euro loan installment to avoid bankruptcy in December.
At the same time, in Italy, the eurozone's third-largest economy, a front-runner emerged, Mario Monti, to take over from Prime Minister Silvio Berlusconi, who agreed to leave this week amid an epic rise in the nation's borrowing rate and a 1.9 trillion euro (about $2.6 trillion) debt.
---