Tunisia's democracy blooms as model for Arab Spring
Smooth elections, a coalition between moderate Islamists and secularists, and an explosion of civic life are propelling Tunisia forward as a model for the Arab Spring.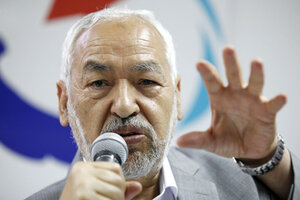 Zoubeir Souissi/Reuters/File
On the day that President Zine el-Abidine Ben Ali fled from his quarter-century of rule, there were 9,600 associations – nonprofit groups such as charities and sports clubs – across Tunisia.
The number looked impressive from the outside; every conceivable corner of society seemed to have a voice.
Yet like so many freedoms during Mr. Ben Ali's regime, this pluralism was a facade.
"Unfortunately, the grand majority of them were under the control of the regime," remembers Malek Baklouti, a lawyer who now works for the UN-funded Center of Arab Women for Training and Research. "We couldn't really talk about a culture of [civic] associations."
Now just 10 months since the former president fled and the Arab Spring began, civic life hasn't just opened – it has erupted.
The political side of that story has been well told: more than 110 political parties registered in advance of Tunisia's first democratic vote on Oct. 23. But behind the scenes, a parallel opening was emerging in the fourth estate.
Roughly 1,000 associations have also been created since January, ranging from women's and human rights groups to youth initiatives.
"Under Ben Ali, nobody was talking," says Bechir Bouraoui, founder of Generation Tunisie Libre (Generation Free Tunisia). "Now, everyone wants to talk."
Citizen engagement
Simple as it may sound, this newly open conversation is perhaps the most important change Tunisia has seen in recent months. For democracy to work in this small North African country of 10 million, it won't just be about building the machinery to cast votes – there were elections, though flawed, under Ben Ali. Equally important will be citizens' desire to remain engaged with the process.
The civic explosion here stands in stark contrast to other countries touched by the Arab Spring.
In Egypt, community organizations are under fire: several dozen NGOs are under investigation for treason in what Human Rights Watch has called a move by the transitional military government to "restrict rights and democracy groups."
---