Europe debt crisis spreads to stronger economies
Yesterday, investors began dumping bonds, even in stronger economies like Austria and Finland. The sell-off shows a need for bolder solutions to the European debt crisis, say some.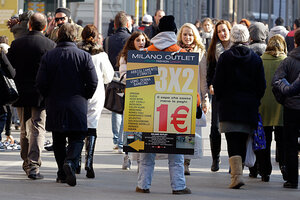 Luca Bruno/AP
Just days ago, Greece and Italy's new governments were hailed as the solution to the European debt crisis, but markets have instead responded with more turmoil.
Observers characterize the phenomenon as a "contagion" that has now spread well beyond Europe's weaker economies.
They say the trend suggests that no economy is immune to the crisis – and that the EU may need to consider bolder solutions, particularly given its failure to persuade Asian investors to come to the rescue.
George Mangus, a senior economist at Swiss bank UBS, warns of a "very sour mood" among investors when it comes to the political measures proposed to contain the crisis. Yesterday, the crunch began to hit the stronger economies of Belgium and France and, most worrying, the Netherlands, Austria, and Finland, with investors taking flight and selling the countries' triple A-rated bonds.
"Incremental change is not seen as enough. Confidence requires a sizable response, not just making citizens 'take their [austerity] medicine,' " says Mr. Mangus. "Nothing short of a total transformation of the eurozone bond market is enough."
---