Europe debt crisis: EU moves too little, too late?
Greece's new leader today submitted a draft budget while Italy has presented an austerity program. But investors are skittish as EU debate rages over how best to address the Europe debt crisis.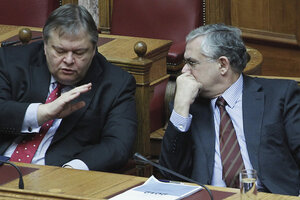 Petros Giannakouris/AP
Europe seemed to make the right moves towards solving the eurozone's sovereign debt crisis this week, and with the political stalemate in Greece and Italy finally broken, Europe's leaders were hoping for a bit of breathing space.
Yet markets instead have responded negatively as an increasingly fierce EU debate over the role of the European Central Bank (ECB) undermines investors' trust that the eurozone will recover. Many experts believe that the attempts of Europe's southern countries to reform are coming too late.
"All forecasts indicate that European economies are either already in recession or only a step away," says Sebastian Dullien, an economist at Berlin's HTW University. "Austerity will put additional pressure on these economies. They will need help from outside to sort their debts and get back to growth."
Greek, Italian moves fail to soothe markets
Greece's new prime minister Lucas Papademos, who heads an emergency cabinet that is supposed to keep the country from defaulting, won a vote of confidence this week with a comfortable majority. That victory allows him to now embark on reforms Greece needs to implement before it gets fresh money from the EU and the International Monetary Fund. Today Greece submitted a draft budget ahead of meetings today and tomorrow with the EU, the IMF, and the ECB.
---