Putin's next marquee moment: Russia's presidency
Vladimir Putin is almost certain to return as Russia's president next March. Is this Russian-style democracy or evidence of the country's reversion to authoritarian traditions?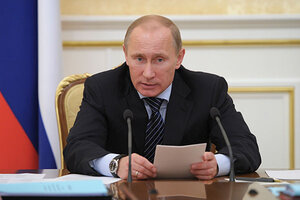 Aleksey Nikolskyi/RIA Novosti/Reuters
It looks to be shaping up as one of history's greatest political comebacks.
Vladimir Putin, a successful two-term president who stepped aside four years ago in deference to the Russian Constitution, will almost certainly return to the Kremlin in presidential polls next March, propelled by popular demand that even his hapless successor, Dmitry Medvedev, admits is an unstoppable force.
Mr. Putin, whom Forbes Magazine recently listed as the "world's second most-powerful person," appears to be at the height of his game, poised to lead his country out of its long post-Soviet malaise and into its rightful place in the modern world.
Many Russians are delighted, and some say it's a triumph of Russian-style democracy. Putin is coming back thanks to "a political model based on constant confidence [in his leadership]," says Dmitry Orlov, director of the independent Agency for Political and Economic Communication in Moscow. "The purpose of the system is to develop Russia's institutions of political and economic authority ... the course will now be for modernization."
But some prominent critics argue that Putin isn't "returning" to supreme power because he never actually relinquished it. They say his power is based on a stage-managed electoral system, a straitjacketed media, and a Kremlin-promoted public perception that there is no alternative to his leadership.
---