In nationwide strike, British trade union workers protest pension reform
As the British government proposes reforms to public workers' pensions amid the country's economic woes, some 2 million people went on a 24-hour walkout, affecting services nationwide.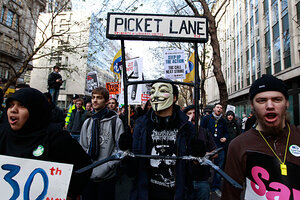 Stefan Wermuth/Reuters
An estimated 2 million UK workers went on strike today over government pension reforms in one of the biggest days of industrial action in a generation.
Schools, courts, job centers, government departments, airports, and hospitals were among the work places affected by the 24-hour walkout but union claims of bringing the country to a halt appeared optimistic.
More than 20 trade unions in the public sector are protesting government plans to reform their pensions. Chancellor George Osborne says the current model is 'unsustainable' and wants staff to effectively work longer and pay more into their pension pot which would be based on a career average rather than their final salary.
Like many Western economies, the UK has a large budget deficit which is compounded by smaller growth figures than expected. On Tuesday, Mr. Osborne revealed the UK growth forecast for 2011 was 0.9 percent instead of a projected 1.7, while next year will be 0.7 percent instead of a projected 2.5.
To fill the funding gap, the UK will have to borrow £127 billion ($199 billion) in 2011-12 – which he predicts will fall in subsequent years – as well as curbing public spending such as pensions, cutting public sector jobs, and raising bank levies and rail fares, all of which are politically risky.
Adding further anger to the unions, Osborne revealed in his autumn statement yesterday that there would be 710,000 job losses by 2017 in the public sector, which would also be restricted to a 1 percent pay increase until 2015.
Public sector unions have long cherished generous pension payments as compensation for lower wages compared to the private sector, but against the credit crunch and perilous national finances, Osborne said changes are urgent.
Today he told the BBC, "The strike is not going to achieve anything, it's not going to change anything. It is only going to make our economy weaker and potentially cost jobs."
"So let's get back round the negotiating table," he said, "let's get a pension deal that is fair to the public sector, that gives decent pensions for many, many decades to come but which this county can also afford and our taxpayers can afford."
---