Vladimir Putin's 'managed democracy' faces key test in Russia
Russian Prime Minister Vladimir Putin has trumpeted a system of 'managed democracy' that has virtually guaranteed his party's grip on Russian politics – until now.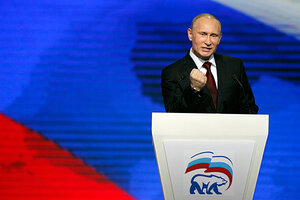 Alexander Zemlianichenko/AP
Russians are expected to turn out in large numbers Sunday to choose a new parliament, after a controversial election campaign that the Kremlin describes as a healthy exercise in democracy but which even participating opposition party leaders denounce as little more than a charade.
Russia-watchers will be scrutinizing these polls closely because they represent the pinnacle of "managed democracy," the somewhat paradoxical electoral system constructed over the past decade by Vladimir Putin, which creates the detailed impression of functioning multi-party political competition while ensuring that outcomes fall within a range dictated by the Kremlin.
Since Mr. Putin himself appears poised to return to supreme power in presidential elections early next year for at least one more six-year term, and he has ruled out any major reform of the political system, the current campaign to replace the 450-seat State Duma offers the clearest glimpse available of how Russian politics are likely to unfold over the foreseeable future.
"Putin's main idea is that democracy is impossible in a country of angry, poor people," says Sergei Markov, a Kremlin-connected Duma deputy with the ruling United Russia party (UR).
---