Ban Germany's right-wing NPD? Neo-Nazi revelations spark debate.
Neo-Nazi enclaves like Jamel, Germany, are closed to foreigners and minorities – and supportive of the hard-right NPD party. Last week, 74 percent of Germans said the NPD should be banned.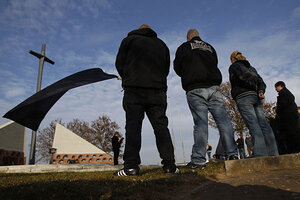 Alex Domanski/Reuters
The mural is 2 meters (6.6 feet) high, several meters long, and looks as if it came straight from a 1935 German schoolbook: a young family in farmer's clothes, the mother cradling a baby, the father putting his arm protectively around his older son's shoulders. Next to the painting in old German font, it reads: "Village community Jamel: Free – social – national."
Jamel is what neo-Nazis in Germany call a "nationally liberated zone," a no-go area for foreigners, ethnic minorities, and overt left-wingers. It is one of the places where the National Democratic Party (NPD), Germany's legal far-right party, has won the battle for hearts and minds – and probably did not have to fight very hard. In some villages and towns of this region, the state of Mecklenburg-Western Pomerania, the NPD easily reached 20 percent in regional elections earlier this year.
"The authorities have given up on Jamel," says Horst Krumpen, chairman of the Network for Democracy, Tolerance, and Humanity, a campaign group in the nearby town of Wismar. "We don't have problems with right-wing violence here – there hardly is any. Our problem is the widespread support for the NPD in the region and the impotence of the state."
For years, places like Jamel were more or less ignored by the German authorities. In a speech this summer, Germany's Interior Minister Hans-Peter Friedrich called right-wing extremism a phenomenon on the decline, and stressed the threat of Islamic terrorism. But the shocking revelations a month ago about a terrorist cell of neo-Nazis, the National Socialist Underground (NSU), which is alleged to have killed as many as 10 ethnic-minority citizens as well as a policewoman and carried out several bombings and bank robberies over the past decade, have put such enclaves back in the focus, along with a debate about whether the NPD, which gives a legal voice to extreme right-wing sentiment, should be banned.
---