Why Germany raises ire in a struggling Europe
On the eve of a major EU summit aimed at saving the euro, anti-German sentiment is on the rise, with many in struggling eurozone countries tired of Berlin's dictates.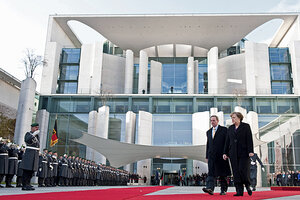 John Mac dougall/AFP/Getty Images
As the most powerful economy in Europe, Germany has traditionally had a proud place at the heart of the European Union. But the signs – from protests to newspaper editorials – are increasing that its less-powerful neighbors are growing weary of receiving dictates from Berlin.
Founded to ensure an end to war in Europe, the EU is descending into a war of words as many worry that what might be good for Berlin is bad for others. And the debate over how to proceed is coming into sharp focus on the eve of an EU summit starting Thursday that is aimed at preventing the collapse of the euro. After months of promises, demands, claims and counterclaims, the EU is now being led toward something approaching a fiscal union, a move proposed and primarily designed by Germany and France.
Gerry Feehily, a journalist and novelist based in Paris, says Germany is bearing the brunt of criticism over the handling of the debt crisis. "The Germans are damned if they do, and damned if they don't," he says. "Everyone is waiting for the Germans to come up with the solution to the crisis, and at the same time [is wringing] their hands about the increase in German power to dominate Europe."
Others are not ready to condemn Germany, saying that if anything, the country's inaction is a greater worry than its flexing of muscle.
---