My teacher, the billionaire? Russians see a teachable moment.
What values should shape the next generation? Russia's President Medvedev kicked up a storm by suggesting that billionaires should share the secrets of their success in the classroom.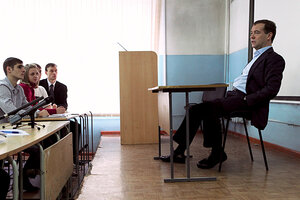 Andrei Kasprishin/Reuters
President Dmitry Medvedev may have thought he was just being helpful when he suggested this fall that Russian schools could overcome their post-Soviet lack of direction and inspire students by inviting billionaires into the classroom to teach "stories of success."
But instead he touched off a long-simmering controversy within Russia's educational community. Most specialists agree that the Soviet model, which viewed schools as production lines for creating patriotic proletarians, is dead. But there is little agreement on the values and methods that should go into shaping citizens of the future.
"I will call for our big businessmen, basically people whose worth is more than $1 billion, and say that they should all start to teach in schools," Mr. Medvedev told a government meeting in September.
"I don't think school principals will object to this because, if we consider it seriously, this is all a question of success in life. This can be different things, of course, and is not just about money, but it's at least very interesting."
In Moscow, where city government has granted wide freedom to a few experimental schools to try their own approaches, some like the idea of bringing a hard-nosed bias for wealth creation into the classroom.
Skepticism toward the rich
But some are deeply skeptical, pointing to the murky origins of most big business fortunes in Russia, where a handful of oligarchs got rich in the tumultuous 1990s by leveraging political contacts to buy former Soviet assets on the cheap. Others argue that the goal should be to avoid all ideological preconceptions.
"Everybody agrees that life should be better in the future, but there is absolutely no consensus about the way forward in the schools or in society," says Konstantin Ushakov, editor of School Principal, a Moscow-based professional publication.
---