Putin, in four-hour telethon, sticks to his guns on election (video)
Vladimir Putin projected his usual magisterial image in the appearance, ruling out any recount of the recent election and warning that foreign powers are behind the protesters seeking reform.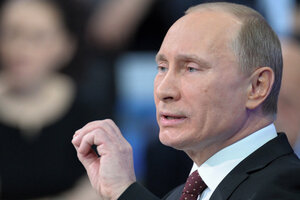 Alexei Nikolsky/RIA Novosti/AP
Vladimir Putin took to the airwaves for his annual Q & A telethon with the Russian public Thursday, offering a four-and-a-half-hour long portrait of a leader who seems supremely confident of his own political future, untroubled by the turmoil over allegations that recent Duma elections were rigged and openly contemptuous of protesters who hit the streets of Moscow and at least 50 other Russian cities last weekend to demand political reforms.
In his tenth televised marathon since becoming Russian president in 2000 – held before a selected Kremlin audience with satellite link-ups to more than a dozen far-flung corners of Russia – Mr. Putin struck his usual magisterial pose, fielding "spontaneous" questions that ranged from relatively trivial matters, like rising electricity bills, to more momentous issues such as the state of Russian democracy, why many Russians are protesting against him and deteriorating relations with the US.
He made it clear from the outset that he will allow no replay of the controversial Duma elections, which have triggered an unprecedented wave of well-documented charges of fraud and vote-rigging on behalf of the ruling United Russia party (UR).
"From my point of view, the result of the Duma election undoubtedly reflects public opinion in the country," Putin said. "As for the fact that the ruling force, United Russia, lost some ground, there is also nothing unusual about this. As for the fairness or unfairness: The opposition will always say the elections were not fair. Always. This happens everywhere, in all countries."
---