Kremlin turns to more covert tactics to undermine Russia's protest movement
The Kremlin says it will allow opposition groups to hold a rally, but cases of preemptive arrests and phone-tapping show that it is still seeking to defeat the protest movement.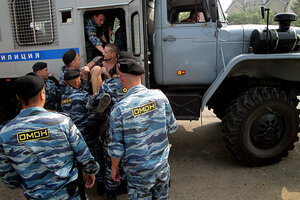 Fred Weir
The Kremlin insists that opposition parties will be permitted to hold a major rally in Moscow this Saturday to protest alleged election fraud, as a follow up to a giant Dec. 10 meeting, and has pledged that no police measures will be taken against demonstrators as long as they behave peacefully and legally.
But beneath the radar screen some awfully strange things have been happening to many grassroots activists, including phone tapping and pre-emptive arrests, in what human rights monitors say is a concerted police effort to split the opposition leaders and undermine the movement.
"We've seen some of this before, police kidnappings of (banned and marginal) National Bolshevik activists, but such methods were mainly confined to the (zone of anti-terrorist operations) in the northern Caucasus," says Oleg Orlov, chair of Memorial, Russia's largest human rights organization. "Now, under conditions of general political crisis, we see these tactics being used on the whole territory of Russia and against prominent political personalities. The illegal essence of our state has come into clear focus."
Consider the case of Boris Nemtsov, former deputy prime minister and co-leader of the banned liberal Party of People's Freedom, who awoke Tuesday morning to find that his private telephone conversations had been secretly recorded and published on the Internet tabloid site Lifenews.ru, which is part of a media empire believed to be controlled by Yury Kovalchuk, a shadowy financier and Kremlin ally who's been called "Vladimir Putin's personal banker."
---