Rajoy, Spain's new PM, warns of tough economic road ahead
Spain's new prime minister Mariano Rajoy was sworn in today amid muted optimism that he can make the tough economic reforms that the eurozone wants.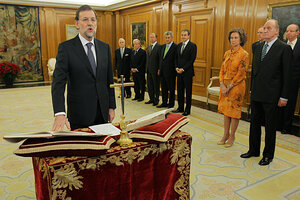 AP
Spain's new Prime Minister Mariano Rajoy was sworn in today amid cautious optimism here and across Europe that he will deepen painful but necessary economic reforms, and that the country will be a driver of recovery, not of stagnation.
Unlike most other troubled European countries, namely Italy, Spain has not shied away from reforms, even with the outgoing Socialist government. Mr. Rajoy, a conservative, is not so much an agent of change but of continuity for policymakers and markets alike, analysts say. He will control parliament because of his party's absolute majority in November elections, allowing him to push through legislation quickly.
"The future could not be any more somber," Rajoy said in his investiture speech today. The debt to GDP ratio increased to nearly 70 percent in 2011, compared to 36 percent in 2007, he said. "We face huge difficulties, and very demanding challenges are ahead. … But those who believe Spain will not implement the reforms to be successful in Europe are totally wrong."
Rajoy was sworn in for his four-year term today before King Juan Carlos, and his cabinet will be in place by tomorrow. Difficult economic times, and at least a one-year recession, likely lie ahead.
The greatest challenge will be finding a balance between growth and austerity. Markets have rebounded since Rajoy's November victory in anticipation of economic reforms in the financial and labor sectors that would spur growth and decrease unemployment, while still cutting public spending. Spaniards' endurance of cuts is likely to be further tested after three years of austerity and stagnation.
---