Flying too close to the sun: German solar companies fall on hard times
Despite being celebrated just a few years ago as economic heroes, German solar-panel manufacturers are falling behind Chinese competitors.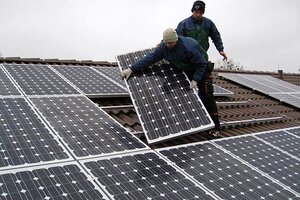 Erik Kirschbaum/Reuters
"The Fall of Icarus": commentators often invoke Greek mythology these days to describe the situation of Germany's solar industry.
Only a few years ago, companies like Solarworld, Q-Cells, and Conergy were celebrated as the country's new economic heroes, creating jobs and wealth in a fledgling, but promising, industry. Last week, the first of the country's manufacturers of solar panels, the Berlin-based Solon, filed for bankruptcy. Experts now doubt that any of Germany's solar companies can survive.
"We are looking at a consolidation of the global solar industry," says Wolfgang Hummel, director of the Center for Solar Research in Berlin. "Having seen a whole range of US companies go under in the last few months, it is now Germany's turn. And the biggest threat comes from China."
The development seems paradoxical. In 2011, renewable energy became the second-most important source of German electricity generation after brown coal, overtaking nuclear energy, hard coal, and natural gas. More than 20 percent of the country's electricity is now comes from wind, solar, and biomass energy, making it the world leader for green energy among the big industrial nations. Germany's energy laws give suppliers of green energy a 20-year-guarantee on the price and the amount of energy sold. By 2009, more than half the world's solar panels were mounted on German roofs, according to the European Photovoltaic Industry Association (EPIA).
---